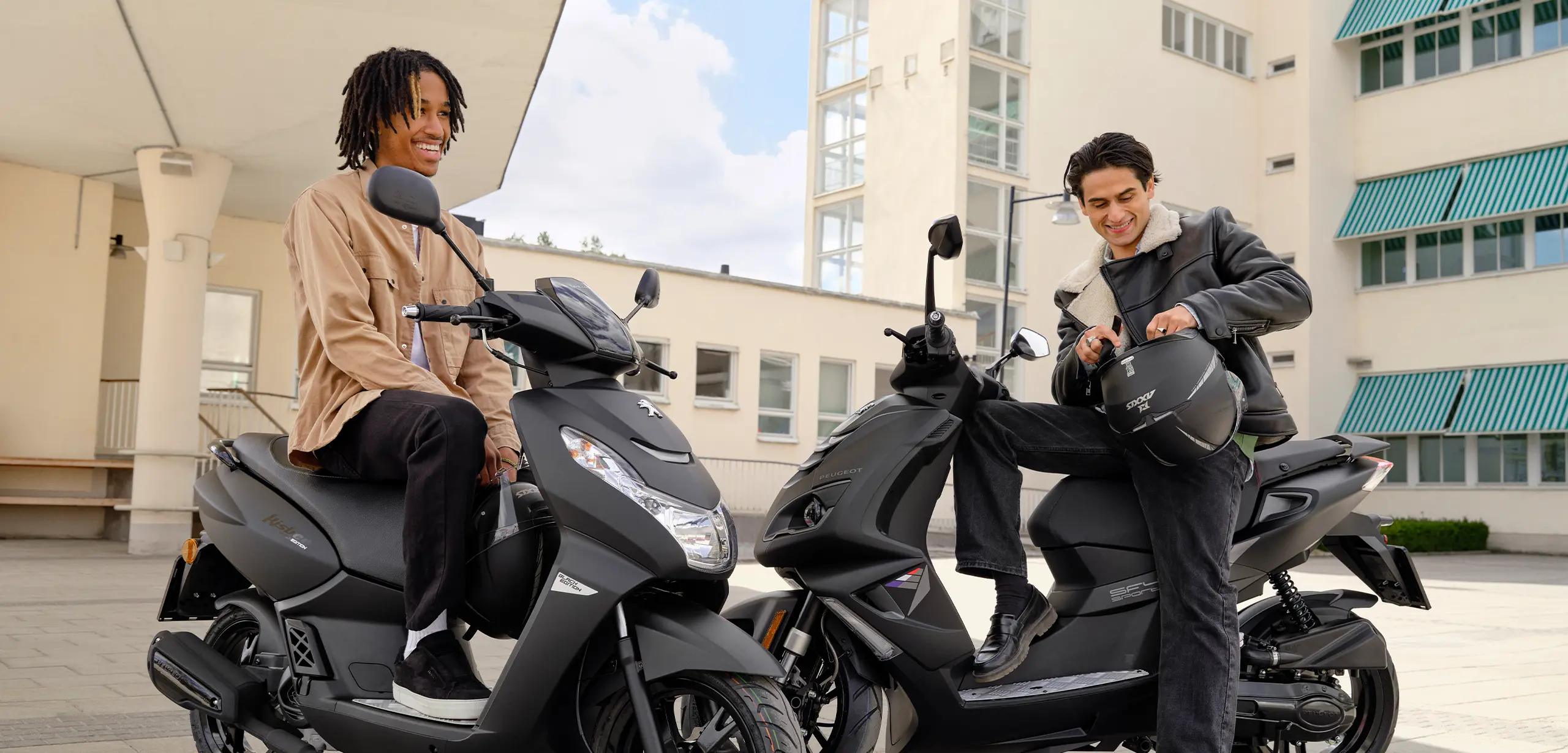 History HOJ TWS (Two wheel specialist)
1978: HOJ TWS is founded by entrepreneur JanOlof Forsberg under the name J.O. Forsbergs Reservdelar (Jofrab). The business idea was wholesale distribution of spare parts for bicycles, mopeds, and forestry and gardening equipment to specialized retailers in Tranås and the surrounding areas. JanOlof Forsberg, who previously worked in customer support at Stiga, saw great opportunities to improve service, support, availability, and delivery times, especially during peak seasons. The company operated from a small location on Storgatan in Tranås.
1983: Forsberg hires his first employee, salesperson Sam Ström.
1984: Employee number 2, Helena Welin, is hired. At this time, the company had moved to an industrial space on Mjölbyvägen in Tranås. The three employees, Janne, Sam, and Helena, handled everything: purchasing, sales, order processing, picking, packing, and invoicing.
1980s: The journey towards becoming a digital company begins with investments in Luxor ABC800 computers for order management, inventory, and invoicing.
1992: Jofrab moves to brand new facilities occupying 10,000 square meters in the Hjälmaryd industrial area in Tranås. The early 90s were challenging due to the banking crisis and currency crisis. The bank demands the owner's personal guarantee for the company's checking credit.
1999: Neander AB in Lidingö is acquired, a wholesaler of spare parts and accessories for bicycles and mopeds. Investments are made in the Navision business system for order management, inventory, invoicing, and accounting.
2003: Motonova AB in Östersund is acquired, a wholesaler of spare parts, accessories, and personal equipment for Motocross and Snowmobiles.
2003: TWS Motor AB is acquired, a wholesaler of mopeds. Automated storage and retrieval systems (Kardex) are implemented in the picking warehouse to streamline operations.
2004: Revenue surpasses 200 million SEK. The company's first e-commerce platform (www.jofrab.se) is launched for retailers and consumers.
2005: JanOlof and Harriet Forsberg sell the majority of shares in J.O. Forsbergs Reservdelar AB to Frederik Rudbäck and Henrik Ekstrand.
2006: Order cutoff time is extended to 6:00 PM for same-day shipping, and Sunday shipping is introduced. Best in the industry!
2007: Revenue exceeds 250 million SEK. Motorcycle sales in Sweden reach an all-time high. Owe Andersson, former CEO of Mekonomen AB for 20 years, becomes the chairman of the board.
2008: The Garage24 brand starts being used in all consumer advertising, including catalogs and websites, to drive traffic to stores. The more established Jofrab brand is still used for retailers.
2009: The financial crisis leads to a dramatic decrease in motorcycle and moped registrations, and therefore, also in accessory sales (over the next three years, the decrease will be 80%). Stricter requirements are introduced for moped licenses. The revenue of our retailers is affected. The agency for leading personal equipment from Alpine Stars is taken up. The agency for Peugeot and SYM mopeds is acquired.
2012: Garage24 launches its biggest web initiative to date: a new consumer website and later in the year, a new retailer website. Continued efforts are made to build the industry's best sales team, resulting in thirteen salespeople, the largest in the industry!
2013: Pre-orders in all sales teams increase significantly for the second consecutive year. New brands are added to the bicycle range, such as BBB.
2014: DBC-Sweden moves its entire Swedish operations to Tranås and acquires parts of the Cross, Street business. Hoj TWS (Jofrab) strengthens its focus on bicycles and mopeds.
2015: Moped registrations increase significantly due to a strong economy and larger age cohorts. Peugeot becomes the largest moped brand in Sweden, and Hoj TWS (Jofrab) becomes the largest moped supplier in Sweden. The business area Jofrab Forrest & Gardening AB is sold to ratioparts Ersatzteile-Vertriebs GmbH. Jofrab changes its name to Jofrab TWS AB and provides services to Jofrab Forrest & Gardening AB in terms of unpacking, picking, packing, order management, invoicing, finance, IT, and web services. The combined sales for the companies managed from Ridhusgatan reach an all-time high of 275 million SEK per year.
2017: After thorough market analysis and years of product development, an in-house brand for electric bicycles is launched. The initiative becomes a success, and tens of thousands of satisfied customers are now riding the TWS Dynamic and TWS Autonomy models.
2019: Hoj TWS introduces a new brand for electric mopeds in Sweden. After numerous meetings and factory visits, Yadea is chosen for our electric moped venture. Yadea is the world's largest manufacturer of electric mopeds. With its wide range of high-quality and innovative models, they have taken the lead in the global market. Yadea mopeds combine modern design, reliable performance, and sustainability. Together with Yadea, Hoj TWS continues to drive the development of electric mobility and contribute to a greener and more sustainable future.
2020: Hoj TWS (formerly Jofrab TWS) is acquired by Storskogen. Storskogen is a Swedish investment group engaged in corporate acquisitions and development. They focus on acquiring and developing medium-sized companies. Storskogen works closely with the companies' management, offering strategic support and capital to strengthen and expand their operations. Through active ownership and a long-term perspective, they strive to create growth and sustainable profitability for the companies they invest in. Storskogen has a broad network of experienced business leaders and also offers business development and operational support to maximize the potential of the companies they engage with.
2021: The journey to modernize the company begins, and a new and modern graphic platform is created in collaboration with the advertising agency BBDO. BBDO is a global advertising agency with a strong presence worldwide. The agency provides strategic advice and creative solutions in marketing and communication. The agency has a long history of delivering successful advertising campaigns and has won several awards for its creativity and customer focus.
2022: HOJ.se! The company's new consumer site for vehicles and electric bicycles is launched with the completely new design language. Work begins to update all digital platforms, including business systems and warehouse management systems (WMS).
2023: The company officially changes its name to HOJ TWS AB. A unique feature is added to the hoj.se consumer site, allowing end consumers to purchase products directly on the site while the transaction goes through our retailers. We also take the next step in our digital journey and launch a completely new reseller portal. The new platform will facilitate our retailers in finding the right products and strengthen our mutual business.